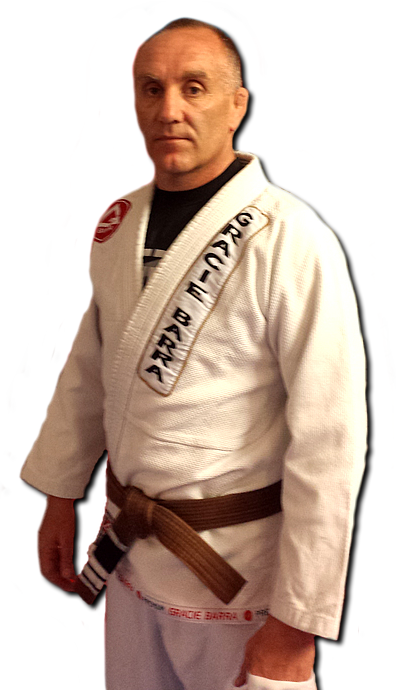 Ali is a lifelong martial artist and started training in Judo at the age of 8 under Sensei Martin Rodway at the well known Gloucester YMCA Judo Club.
Ali took to the sport quickly and trained under Sensei Rodway until the age of 22, he competed regularly and medaled at both County and regional competitions which culminated in his selection for the West of England Squad.
In addition, Ali was very fortunate to train on a regular basis with his brother in law Martin Shotbolt who at that time in the late 80's was one of the first sports man in the area to train full time and was a regular member of the Great Britain Squad. This allowed Ali to accompany Martin on many training sessions to the internationally recognized Budokwai Club in London where he came into contact with some legends of the sport such as Neil Adams, Ray Stevens etc.
Unfortunately, Ali suffered a horrific arm injury whilst competing which ultimately brought an end to his Judo career in 1992.
At this time he then took up a completely new system and began studying Wado Ryu Karate under Sensei John Rickhuss.  Again, Ali dedicated himself completely to learning the system but also retained his training in Judo Newaza or ground fighting. After 4 years of training he was awarded his Black Belt in Wado Ryu and also was invited to train with the prestigious EKGB Squad that at that time included the likes of Wayne Otto (5 x World Champion).
Ali continued training in Karate and this was rewarded with his 2nd Dan Black Belt in 1997 and his 3rd Dan Black Belt in 2001.
In 2003, Ali managed to fulfill a life long dream of training in Brazilian Ju Jitsu under Professor Braulio Estima at the Gracie Club in Birmingham. At that time, this was the only club in England so Ali had to travel 3 times a week to train 3 hours. He was taught by both Braulio and his younger brother Victor who was a purple belt then! After training there for a year, Victor notified Ali that another Gracie Barra Black Belt , Carlos Lemos Jr (2 x World Champion) had started a club in Cheltenham and gave Ali their blessing to train nearer to home. This was the start of a close 6 year friendship with Carlos and the creation of the Gracie Barra Bristol club that continues to this day.
Ali was awarded his Blue Belt by Carlos in 2005, at which time Carlos left to live in the USA.
Ali continued training very regularly in BJJ in Gloucester with a small group of friends and made regular visits to Gracie Birmingham.
In 2009 Ali was awarded his Purple Belt by Braulio Estima and he also officially opened his own Academy Braulio Estima Gloucester located at the Dowty Judo Club.  This club quickly established itself as a centre for BJJ in the area and attracted both new and experienced fighters who continue to train together today.
Ali was then awarded his Brown Belt by Braulio in 2012 and then formed the partnership with Mark Weir that continues to thrive today at the Range Academy.